BMW Body Shop
On average, BMW owners spend about $1,000 to $1,700 every year on maintenance and repairs, obviously much more than other brands. Research data show that a 10-year cost of maintenance is $17,800, making it the most expensive vehicle to maintain.
Any service or repair performed on a BMW should be done via their Certified Collision Repair Center. BMW trains the professionals to meet their rigorous standards.
The article walks you through the tips for choosing an auto body shop, expense, warranty, insurance, and many more.
BMW Auto Repair: Is it Worth the Expense?
Though luxury brands are generally expensive to own in the long run, BMW leads the list after toppling brands such as Audi and Mercedes-Benz.
However, is a BMW worth the expense? Anyone who has remotely taken the car for a test drive would love to own one. But the maintenance is not worth it if it costs you a loan to cover the expenses.
On the other hand, you can purchase an extended warranty to cover the costs. Though they are a bit pricey, you need not pay an arm and a leg for repairs. You can also look at third-party providers for service contracts.
Tips for Choosing the Right BMW Body Shop
Choosing the right body shop for your BMW is not a decision to be taken lightly. Here are a few pointers to help you choose the right BMW certified collision center:
Are BMW Master Technicians available on the roster?
Having a master technician work on your BMW is ideal, but it requires five years of training exclusively at a BMW center. While it is not always possible, you may want someone with at least a dealership level of experience working on your car.
Does the repair shop have the right tools?
BMW being a luxury vehicle, requires more than your standard OBD2 system to diagnose issues. Without the right tools, your technician may use shortcuts for repair procedures.
Do the technicians have any certifications?
Make sure the team working at the shop has either an ASA or ASE certification. Since the standards for these certifications are high, not every technician can obtain those.
Search Google for reviews about the business. Customers are pretty much vocal about their grievances online on websites such as Yelp.
Finally, trust your gut instincts when it comes to choosing auto body shops. A shop that is cluttered and disorganized all around is not where you want to have your vehicle serviced.
Requirements for a Dealer to Become a BMW Certified Collision Repair Center
BMW doesn't have any authorized service center. Only dealerships can become a BMW-certified collision repair center. Currently, there are 69 collision repair centers in the US.
Here are the requirements for a dealership to become a BMW CCRC.
The ownership of the dealership and the collision center should be with the same entity.
Every CCRC in the program should use original parts and follow the repair procedures set by BMW.
As for the training, the technicians should attend the training courses conducted by BMW North America.
Common Auto Body Shop Repairs and Their Cost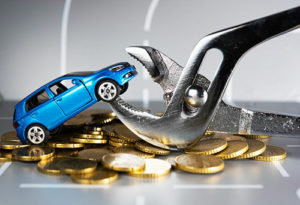 The cost of maintaining a BMW is astronomically high when compared to luxury cars in the same range. A V10 or V8 engine may require more maintenance than a four or six-cylinder vehicle.
Here are some of the auto body shop repairs and their pricing.
Regardless of the make, model and year, a BMW has its service every year or 10,000 km, whichever comes first. Minor work such as oil, filters, and inspection can cost anywhere from $200 to $400, while major issues like transmission services would cost you $400 and $600.
Dent and touching up the paint is pretty expensive at $1,200 – $1,500. Depending on the dent, the price may go higher.
BMW engines require higher performance synthetic oils, which can cost between $8 and $15 per liter, and your vehicle can take as much as 7-9 liters.
Brake pads (OEM Parts) can cost you $250, excluding the labor charge.
The other common repairs you see are vacuum leaks, which cost you $100, and oil leaks cost $2500.
What's Covered in a BMW Car Warranty?
Your car comes with a factory warranty. On the warranty expires, you can buy the extended warranty. Apart from these, you can also buy an extended protection plan from third-party providers.
The factory warranty covers:
Bumper-to-bumper protection – 4 years or 50,000 miles
Corrosion warranty – 12 years and unlimited miles for cars manufactured on and after 2004.
6 years for vehicles dated 2003 and before
Federal emission warranty – 2 years or 24,000 miles
California emission control – 3 years or 50,000 miles
Wiper blade inserts, wheel balancing, and wheel alignment – 2000 miles
The extended warranty covers:
7 years or 100,000 miles
24/7 roadside assistance
Repair is performed in a certified BMW facility with OEM parts.
Average Insurance Cost for a BMW
A BMW can cost you $186 per month or $2,234 per year to insure. However, the cost varies depending on the insurance company.
Though it is an expensive car to own, your driving history and location also influence the insurance.
Classic BMW Collision Center: Why?
Is your BMW giving you trouble? Were you in an accident? You may be looking for auto body shops to repair your car. Why not look at the classic BMW collision center. Here's why you should look at one for your vehicles:
Computerized free estimates.
Technicians trained via BMWs certified program.
Genuine BMW parts with a warranty of 2 years.
The seamless payment process with your insurance company.
Conclusion
BMW is a luxury car, and as such, it can be expensive to own and maintain. Any repair or service should be done in a certified collision center authorized by the brand.
Consider choosing a BMW-certified collision repair center instead of auto body shops for maintenance. Purchasing a good warranty and insurance can also help you with the costs incurred during the repair.
For over 45 years, Little Germany is a certified Service Center that specializes in full service and repair services for German-made cars. Contact Little Germany for all your auto repair needs (After-Hours form).